Excellent tools for building and managing datasets include Excel and Google Sheets. For this reason, a lot of individuals use these services to manage their connections. What happens, though, if you want to duplicate the same contacts on an iPhone, Android smartphone, Microsoft Outlook, or any device that doesn't accept the Excel format? Would you enter every piece of information manually into your smartphone? That is not required. The VCF format comes in helpful in this situation
What precisely does VCF stand for?
A standard file format for storing contact information for many people is called a "vCard" or "VCF" (Virtual Contact File). Name, title, address, email, phone number, and other information are included. Along with custom fields, you may save images and other types of media.
You may quickly convert the needed data from an Excel file to VCF file and then use it on any platform that doesn't support Excel, including your Android device, iPhone, Microsoft Outlook, and others. But how may an Excel document or a Google Worksheet be converted to the vCard VCF format?
Methods for Quickly Converting Excel to VCF
Method 1: Convert Excel contacts to VCF file
Three steps will make up the process of converting the Excel spreadsheet to vCard. We'll make a spreadsheet with contact fields and export it as CSV to get started. The CSV will be imported into Contacts in the second stage before these contacts are exported to VCF.
1. Make an Excel worksheet, then export it as a CSV file.
Open the Excel document that will be changed to CSV format.
In the top left corner of the screen, click the Office icon.
Hit the save as and then other formats.
Navigate to the folder you want to use to save the file.
Select CSV from the list of available saves as types (Comma delimited).
2. The CSV file should be imported into Contacts
 In the Windows search box, enter "Contacts," and afterward hit the Open button to the right of the search results.
After choosing Available Users,  hit on the import tab.
CSV files should be your preferred format.
The files have all been exported at this point.
3. Export Contacts to the VCF file
The Export tab is located at the top of the list of all the CSV files that you previously created.
Select vCards /folder of .vcf files.
 Select "Export" from the menu at the bottom.
Press OK after selecting a location.
Method 2: Transform Google Sheets into vCards
Google Spreadsheets and Google Sheets are frequently used in place of Microsoft Excel by many people. Please share your preferences for Google Sheets or Google Documents over Microsoft Excel in the comments below, along with any further justifications. How can you translate a Google Sheet to VCF, straight to the point?
Follows the steps that are given below
● Create a Google Spreadsheet with contact fields for name, department, business, phone number, and more.
● Click on File > Download. Select comma-separated-values (.csv, current sheet).
Identify Google Contacts.
Then hit on the import Contacts.
After that clicking on a file will select it.
Then Choose the CSV file.
Method 3: Convert Excel (.csv) to vCard (.vcf) file directly with Excel to VCF Converter
Although the above-mentioned techniques are simple, there is one thing that cannot be disputed: they take a lot of time.
Think about quickly and easily changing XLS Contacts to VCF with fewer clicks. A professional tool called Excel to VCF Converter from Softaken can convert an infinite number of Excel contacts to vCard file format without sacrificing any data. No matter what Excel file extension use to store your contacts, you may convert them into one or more cards.
The instructions for using this program to convert contacts from Excel to vCard are as follows:
On any Windows PC, the program may be effectively install.
The Browse button allows you to select an Excel XLS/XLSX file.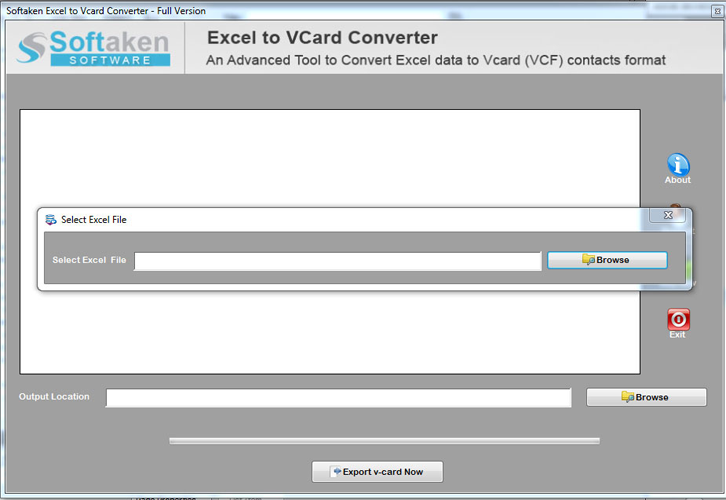 Examine an Excel contact preview and map the information to the vCard format. At the top of the left side, click the Export button.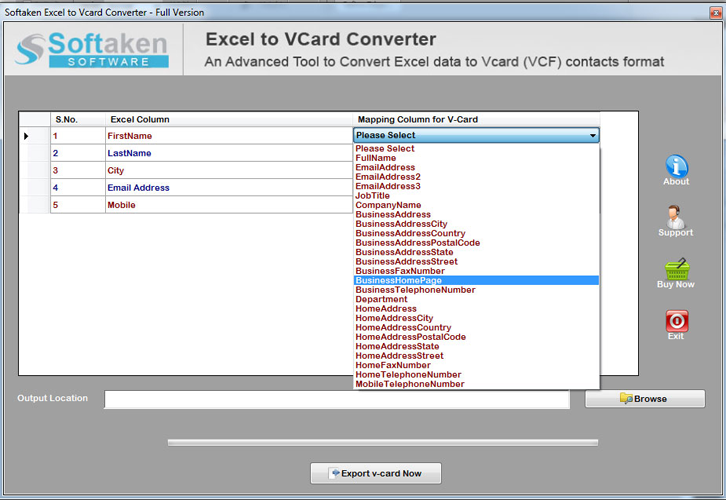 The option to "Export vCard as a single file or multiple" is available.
Go to the target folder for the vCard file by selecting Browse.
To start converting, choose Export vCard Now.
Where Can You open the VCF file that converted from Excel to VCF Converter?
An Excel or Spreadsheet may be convert to vCard (.VCF) format using Softaken Excel to VCF Converter, a Windows-only program such as-
iPhones, iPads, and other mobile devices
Mozilla Thunderbird, Microsoft Outlook, and other email applications are examples.
Various web-based email applications, including Gmail, Hotmail, AOL Mail, etc.
Skype, WhatsApp, and other well-known messengers.
Characteristics of Excel to vCard Converter:-
All contact details are export from Excel files to a VCF format.
Contacts should be analyze and scan using an Excel spreadsheet.
VCF contacts from XLS/XLSX files without using Excel Software
One VCF file must include all of the contacts.
Using the field mapping service provide by vCard, Excel fields can be map.
It is possible to convert a large Excel file to vCard format.
Final touches
In this post, we explained the complete guide on How to convert Excel contacts to vcf files directly by using the different ways. But, the Excel to vCard Converter is a simple and fast process as compared to others. We advise utilizing a program like Softaken Excel to vCard Converter if you need to quickly convert your Excel contact database to vCard as part of your task.