Record screens could be difficult in the past. To get things done, you had to either use complicated tools or pay a software professional. Fortunately, screen capturing software has become much more user-friendly over time. You can now make professional-looking tutorials with very little effort.
A reliable screen recorder will help you capture high-quality footage whether you do any kind of product demos, need or offer tech support, or use video calling.
A good screen recorder should be simple to use, record a specific region, and allow users to annotate the footage recorded. It should also have audio capture from the system and microphones, as well as the capability to edit video and music using the built-in editing tools.
5 Best Screen Recorder to Capture Video and Audio
1. iTop Screen Recorder
iTop Screen Recorder is a free screen recorder for PC that records in high resolution, saves the video to all popular formats, and allows you to record videos of any length.
You can choose which section of the screen you want to capture or just record the whole screen using the desktop software, Besides, you can simultaneously record the webcam, system audio, and your voice.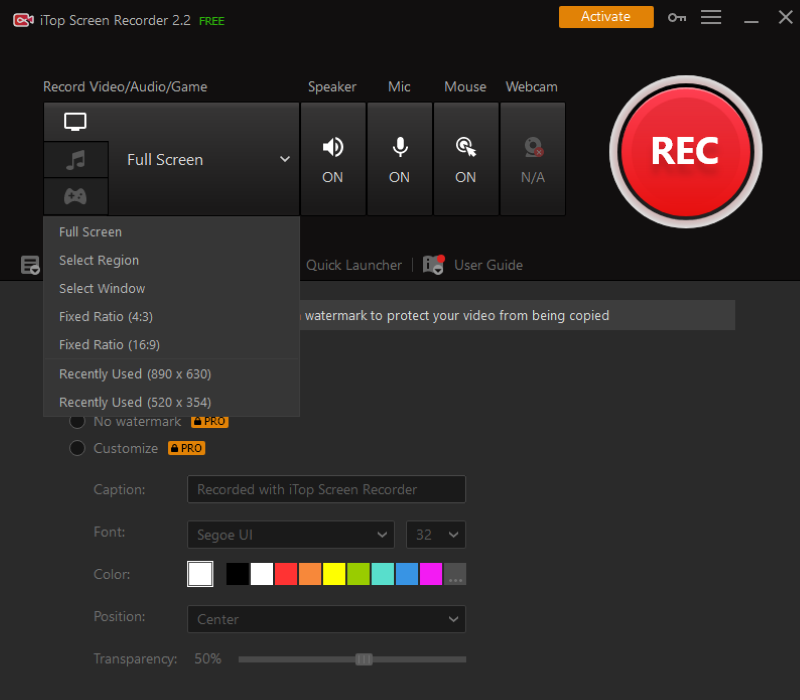 Hotkeys help control the recording, and annotation tools let you highlight and draw on the video. After recording, you can easily clip the video, and add music, subtitles, and filters using the built-in video editing tool. iTop can publish the video to Facebook and YouTube with a single click, too.
2. Screencast-O-Matic
Screencast-O-Matic is one of the best screen recorders and video editors that allows you to record in 800X600 and other standard definitions, making it excellent for recording and sharing fast videos.
Users can zoom, draw, and add overlays to video files, and they can share the footage to YouTube without having to download any desktop software.
Additional features of Screencast-O-Matic include the ability to edit computer sounds and synchronize recording with video footage.
3. Screencastify
Whether you're an expert or a new video creator, Screencastify has all of the necessary features. You may use it to record your webcam, your full screen, or just a single tab, as well as speak to your microphone.
It also includes annotation tools to help keep your audience focused on the important information. The mouse spotlight, click highlighting, and drawing pen tool are all included. Screencastify will do the heavy work for you by saving the video to your Google Drive once you've recorded the screen.
4. Bandicam
Bandicam is a powerful screen recording program that can capture both the screen and gameplay. It makes use of a high compression ratio while maintaining video quality. With Bandicam, you can shoot 4K ultra-high-definition videos at 120 FPS.
Bandicam can record all the major devices that you can record videos from IPTV, HDTV, APPLE TV, and smartphones with a separate capture card. You can also take screenshots in JPEG, PNG, and BMP formats with Bandicam.
Bandicam can essentially record anything, including your full computer screen, Excel spreadsheets, your web browser, and so on.
5. Camtasia
Camtasia allows you to easily capture and edit professional-looking videos on your computer. From a desktop or iOS device, you can record audio and video, as well as capture your webcam to add a personal touch to your clip.
Camtasia thrives with its built-in video editing tool. The tool's sidebar has a large number of stock photos as well as click-and-drag effects. Users can quickly create outro and intro segments by dragging and dropping them into their recordings.
You can also use transitions between slides and scenes to improve the flow of your films, as well as zoom out, zoom in, and pan animations.
Originally published at: https://www.gadgetgram.com/